NA4DC REPEATER
Provided as a public service by:
DAVIE/COOPER CITY AMATEUR RADIO CLUB (DCARC)
2631 SW 51st ST
Dania Beach, FL
26° 3.55554' N (26° 3' 33.24" N)
80° 10.53384' W (80° 10' 32.03" W)
Grid Square EL96vb
443.250 MHz. Offset: +5 MHz. PL: 103.5 Hz.
Repeater: Hytera RD982
Controller: Internal
Duplexer: Motorola T1504
Antenna: TRAM 1450 at 15.2 Meters (50 Feet)
ERP: 60 Watts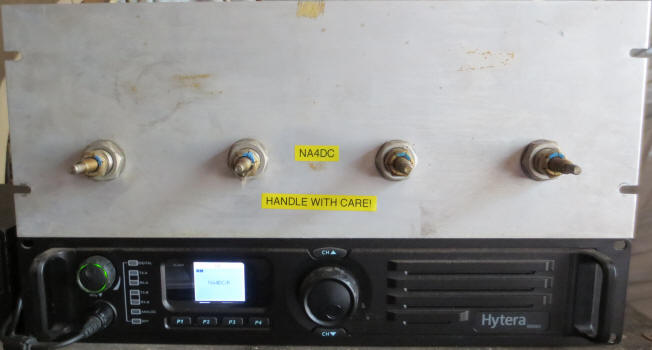 Repeater with Duplexer sitting on top.
DCARC
President
WB4BAG, Fred
Officers
REPEATER
Licensee and Senior Control Operator
WB4EHG, Rich
Control Operator
W6BXQ, John
Technical Committee
W6BXQ, John
KM4DQM, Bill
Repeater Owner
KM4DQM, Bill
Site Owner
W6BXQ, John
The repeater is off the air for maintenance
July 21 1700 EDT. Back on July 25 1800 EDT.
Special thanks:
To KM4DQM, Bill for supplying repeater
and antenna for club use.
To KB2TZ, Elliot for supplying and tuning
duplexer.